Upcoming Events & Farm News
Share you photos with us using
#GrowingMemories #DullsTreeFarm #DullsPumpkinHarvest
---
The Old Farm Dog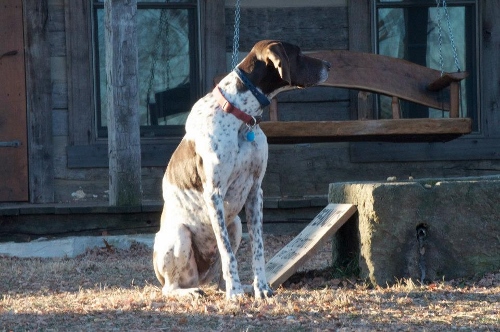 April 11, 2017
Well, I did something today that I've only had to do two other times in my life. I buried the dog that I had raised from a pup. The "Blitz" era has come to an end, predeceased by "Cassie" and "Cosje" before her. All good German Shorthair Pointers, each with their own distinct personalities. Good family dogs, good farm dogs, good hunting companions.
Blitz was the most opportunistic. He had the longest set of legs I've ever seen on a Shorthair. Those legs put his mouth right at picnic table height, and more than one unwary guest to the tree farm lost the sandwich right off their plate. He knew when he'd done something wrong because he would slink up to me and ask for forgiveness even when I was unaware of what sin he'd committed.
Blitz would have been thirteen this year. Like me, he's been getting a little grayer around the muzzle in recent years. He was also the most independent that I've raised. He would seldom retrieve a downed bird. He would find it, nuzzle it and leave it, so I learned to watch him closely to see where he paused with his nose to the ground if I wanted his help in gathering the game.
One year during the fall season, he blew out the ACL on his rear leg, which required surgery to fix and also meant that he would miss the upcoming hunting season. A couple of years later he repeated the process on the other rear leg - an extremely unfortunate series of events for a guy who thinks that a hunting dog needs to earn his keep.
He's been fighting a cough for some time now and when it came time for our annual trip to visit the family in Nebraska this past Christmas, I seriously debated whether or not to take him along. Of course he wanted to go because that's where the birds are and it's the only time we ever get to chase feathers. At the last minute, I decided that he could make the trip one more time, thinking that it may be his last, but not knowing how true those thoughts were at the time. Perhaps he, too, could sense that this might be his last hunt because he did really well. He pointed the coveys, holding tight while I walked in for the bust. We worked the singles successfully. He even found – and retrieved – a couple of cripples I got down on a covey rise, bringing them to me with a smug look on his face that said, "I've always known what you expected, but this may be my last chance to show you I'm capable!" We've shared some successful hunts in previous seasons, but none as good as his last. The quail population was really good this past season, so we found lots of birds in a couple of hours which was a blessing because Blitz wore out quickly. When we got back to the truck, he didn't have the energy to climb in. He'd balk at the door then look up at me with a look that said, "A little help here, please?"
Last July we had the opportunity to get another pup. We've always been a one dog family, but decided that the time was right, so the Heidi era has begun. I actually think that Heidi helped prolong Blitz' life a little bit with her youthful exuberance. Blitz taught her a thing or two during their time together. As I was digging the grave, Heidi came around to nuzzle Blitz' body and I just felt like Blitz was telling her, "The baton is yours now – run with it!" as she bolted after a squirrel. I placed his body gently in the grave, curled up like he was sleeping with his leg up over his ear like he often slept and a pheasant wing in front of his nose. Godspeed on your next journey, Blitz, and thanks for the memories!
Tom Dull
---

The Great Pumpkin Run
October 7th, 2017
Ready for a great pumpkin fun run through the farm? Join us for this 5k run/walk with a fun harvest feel! Enjoy fresh apple cider, a small pumpkin, and the opportunity to compete in this exciting event!

---
Newfoundland Day at Dull's Tree Farm
with the South Central Newfoundland Club
December 3rd, 2017
The South Central Newfoundland Club will be on the farm with their big woolly dogs to pull your tree from the field to the processing area. Some pull a cart, some pull a sled, some hook on to a tarp. They work in tandem and by themselves.
Newfies are a friendly, docile breed. They're hard workers and they love children. It's a great photo opportunity! You're invited to support the club's Newfie rescue efforts with your tips and donations.
Check back often!
New things are being planned all of the time at Dull's tree farm!