About Us
Our Story
We're Tom and Kerry Dull and we moved into our historic 1800s Boone County farmstead a mile west of Ind. 39 when we were married in 1982. At the time, the big old post-and-beam house overlooked fields of corn and soybeans. That first Christmas, we drove 30 miles to pick out our Christmas tree. It was the beginning of a tradition we now share with our own family as well as thousands of families who make a visit to Dull's Tree Farm to celebrate Christ's birth.
We're not strangers to farming. Our family grows corn and soybeans in an operation based at my parents place a mile north of our house. In 1985 we decided to try growing Christmas trees on the gentle slopes around our homestead. We planted 200 Scotch pines that first year.
When they survived, we figured we must be doing something right so from 1985 to 1992, we planted and tended our trees, sweating in the hot June sun to shear them to the perfect shape, and looking forward to being able to cut our Christmas tree from our own farm.
Over the years, we've branched out (pun intended) into wreath making, a petting zoo, barn restoration and more. In 1996 we moved in and restored an original log cabin that has evolved into a unique gift shop. The Stone Cabin Inn, a structure consisting of the combination of two original log cabins is our hospitality cabin. We don't just sell trees! We sell the experience!
Our mission is to be the best stewards of the resources God has entrusted to us while providing our visitors with high quality agricultural products in a friendly environment where educational and memorable experiences abound.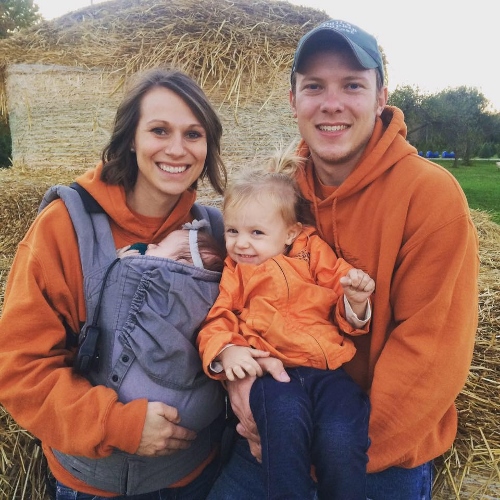 Fall Fun on the Farm

In the fall of 2013, our son Lucas left a job as an engineer to pursue his passion for agritourism. He and his wife Dana came back to join the farming operation and helped grow the business by adding a fall season consisting of u-pick pumpkins, a corn maze, and many other entertaining activities for people to enjoy. Our fall season, known as Dulls' Pumpkin Harvest, officially started in 2014 and has provided many families and school children with engaging fall fun and education on the farm during the month of October.

Some Claims to Fame
Dull's Farm was awarded Best of Indiana in 2014, Grand Champion Christmas Tree at the 2016 Indiana State Fair, and the Indianapolis Monthly voted Dull's Farm the Best Christmas Tree Farm for 2004. We were also a feature story in Midwest Living magazine, in November 2011.
We've also been featured on the covers of The Indiana Prairie Farmer and The Hoosier Farmer and we've been the subject of stories and photos in The Indianapolis Star, the Lebanon Reporter, the Crawfordsville Journal Review and the Indianapolis Business Journal, just to name a few. But the most important review is yours, on your next visit! Come see us, and tell us how we did!
Come to the country. Absorb the aromas.
Build a family history, one memory at a time!